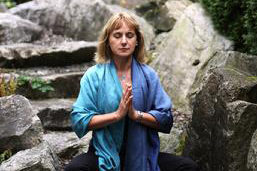 About your instructor
Julia Shields is the director and owner of Free Spirit Yoga and Pilates and is a registered 1000 hour + gold level Yoga Teacher and Yoga Teacher Trainer with the Canadian Yoga Alliance. Free Spirit Yoga and Pilates is a registered Yoga Teacher Training school (CYA-RYS 500). CYA-RYS 500's are recognized as providing high standards of training for yoga students across Canada and internationally. CYA-RYS 500 registered yoga schools promote the integrity of yoga teacher training in Canada and internationally.
Julia has been practicing an eclectic fusion of Yoga styles since the 1970's and has embraced Yoga as a full time study and life devotion since the mid 1990's. Her practice has been influenced by traditional and classical teachings as well as modern hybrid Yoga styles.