Class Descriptions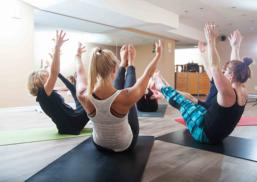 Classical Hatha Yoga & Hatha Flow Yoga (all levels)
Hatha Yoga is a holistic approach to promoting vibrant health and personal fulfillment. Hatha Yoga embraces the physical aspects of Yoga, the classical Yoga poses (asana's), breathing techniques (pranayama) and the ethical principles of Yoga (Yama's and Niyama's). Meditation skills, relaxation techniques and Savasana are all integrated into our Hatha Yoga classes.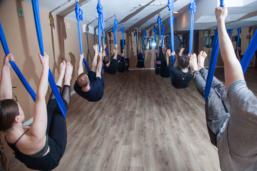 Aerial Yoga
Aerial yoga incorporates a soft fabric hammock to fully or partially support your body in traditional Yoga Poses and sequences.
The hammock is connected with 2 overhead ceiling mounts like a swing and is suspended hip height from the floor.
Aerial Yoga makes all yoga poses both simple and challenging more accessible to all bodies.
Aerial Yoga increases flexibility
Improves range of motion
Develops and improves core strength
Strengthens arms and hand grip strength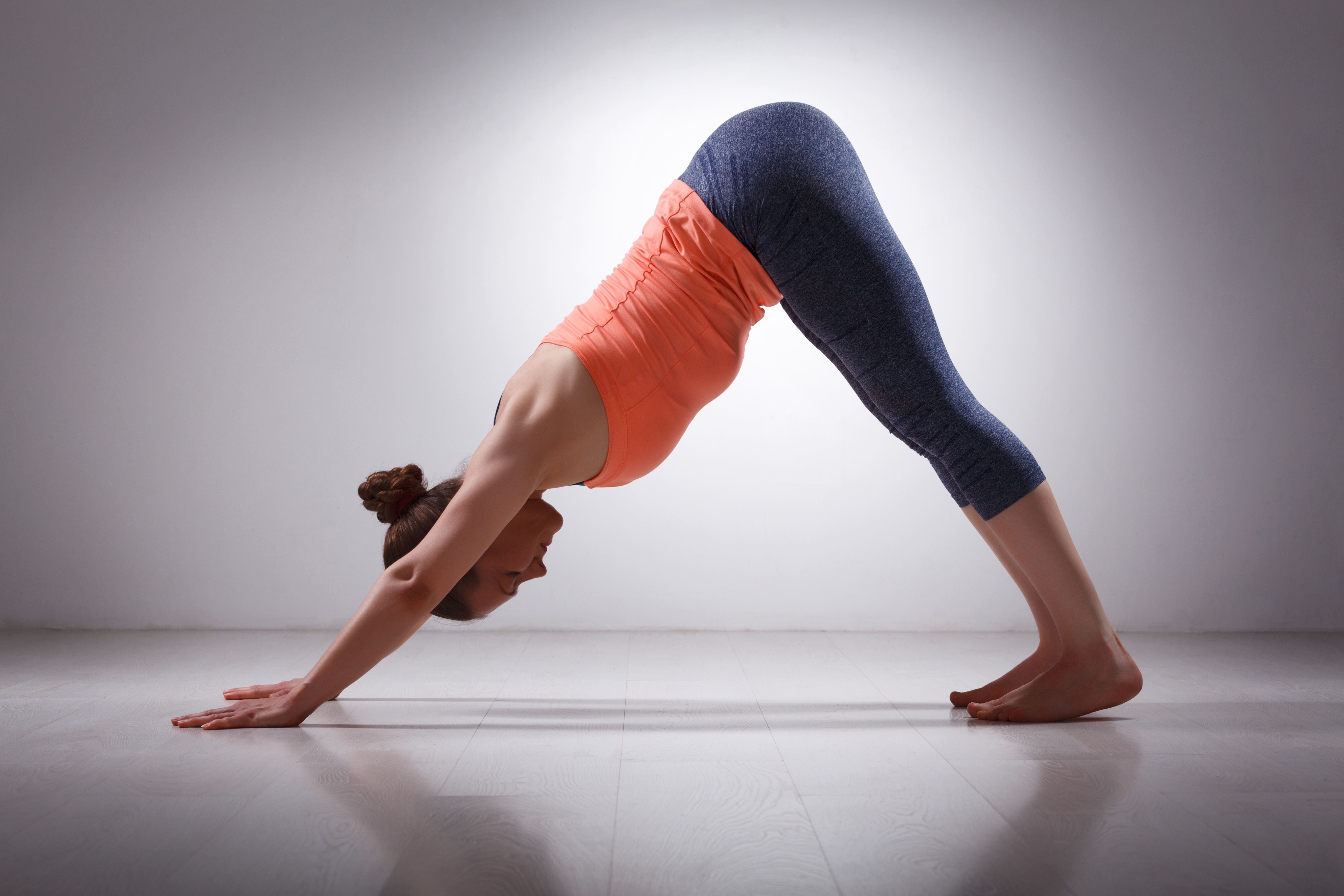 Gentle Hatha Yoga (all levels welcome)
This class allows you to work comfortably at your own pace in a stress free, non competitive environment. Classical Yoga poses (asanas) and stretches that focus on alignment, posture improvement and self awareness are explored. Breathing, relaxation techniques and stress management form an integral part of this nurturing class. Suited for individuals seeking simplicity and skills for living a more relaxed and content lifestyle. This class is open to beginners, ongoing students, pre and post natal students and is excellent for recovery from injury or surgery.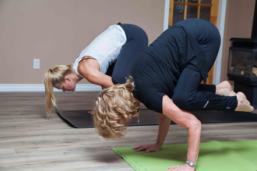 Yoga/Pilates Fusion
A fun energetic fusion of Yoga and Pilates sequences incorporating balls and props. Designed for students wanting it all! Strengthen, tone and energize your body as you improve your flexibility, balance and range of motion.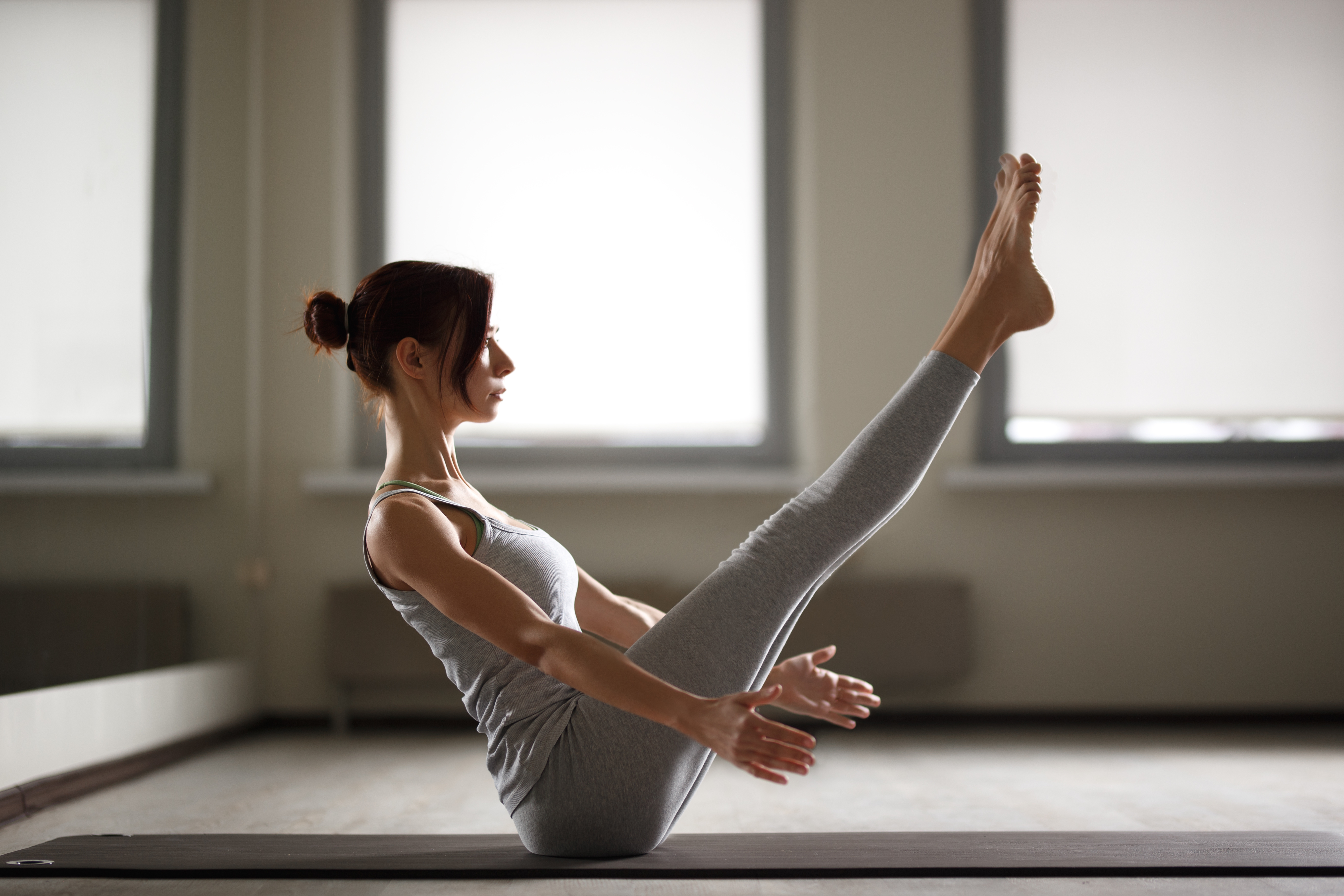 Pilates Mat (level 1 and level 2 classes)
Pilates is a unique system of body conditioning exercises developed over 85 years ago by Joseph Pilates. Pilate's techniques focus on core stability and body awareness. Pilates will strengthen, lengthen and tone your muscles as it improves your balance, co-ordination and stamina. Unique breathing techniques and postural alignment form an important part of Pilate's classes.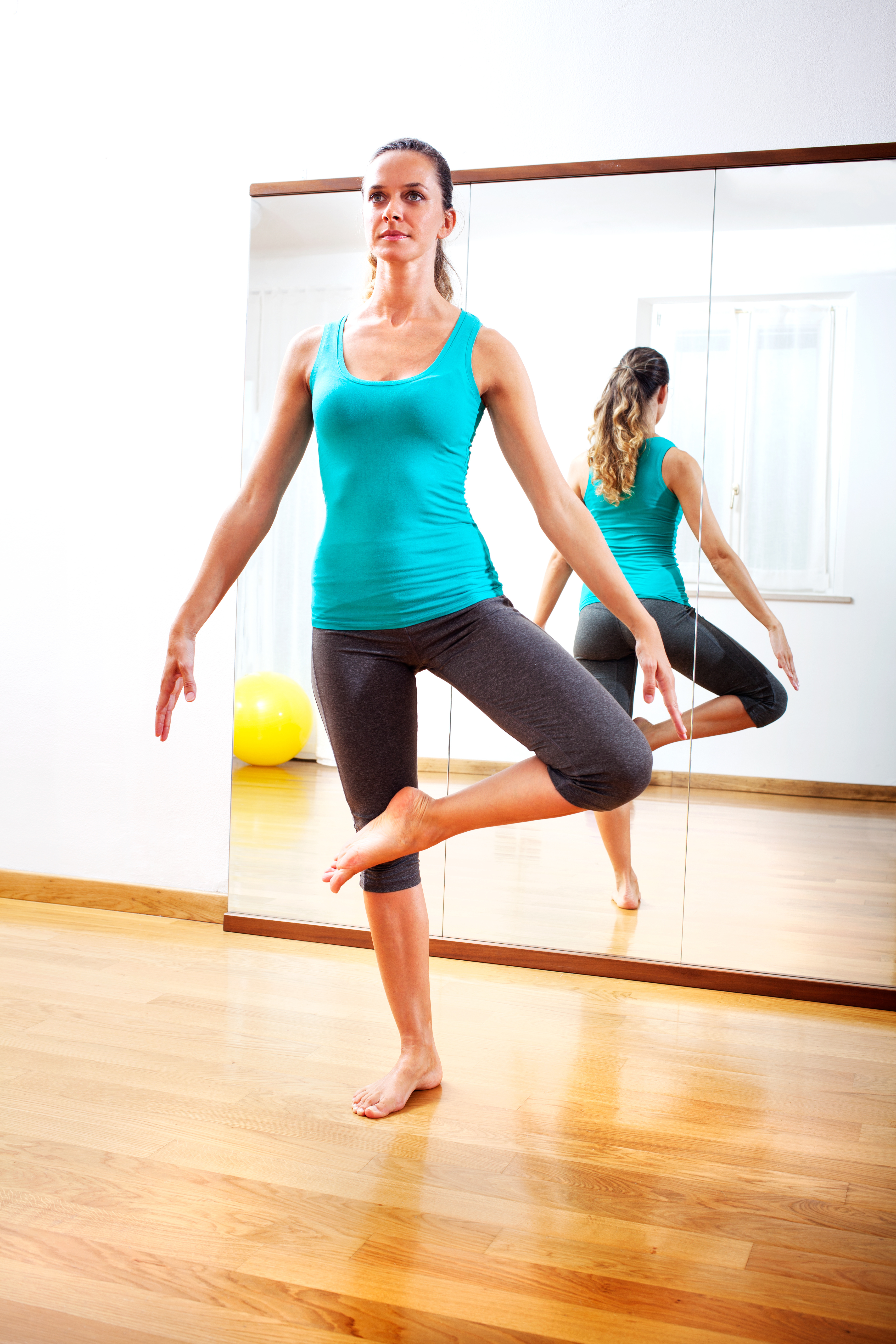 Hatha Flow Yoga
Hatha flow yoga integrates rhythmic breathing with flowing Yoga Asana's (poses). This ancient style of Yoga becomes a "meditation in motion with breath" to refine and develop strength, balance, co-ordination and flexibility.
Infrared Hot Yoga
Classical Yoga asana's (poses), Yoga flows and sequences along with guided breathing techniques are designed to detoxify you from the inside out. Studio is heated to 100 – 120 degrees Fahrenheit (up to 40 degrees Celsius) Hot Yoga rejuvenates, heals, strengthens, reshapes and relaxes you body and mind.
Read More about Infrared Hot Yoga (PDF)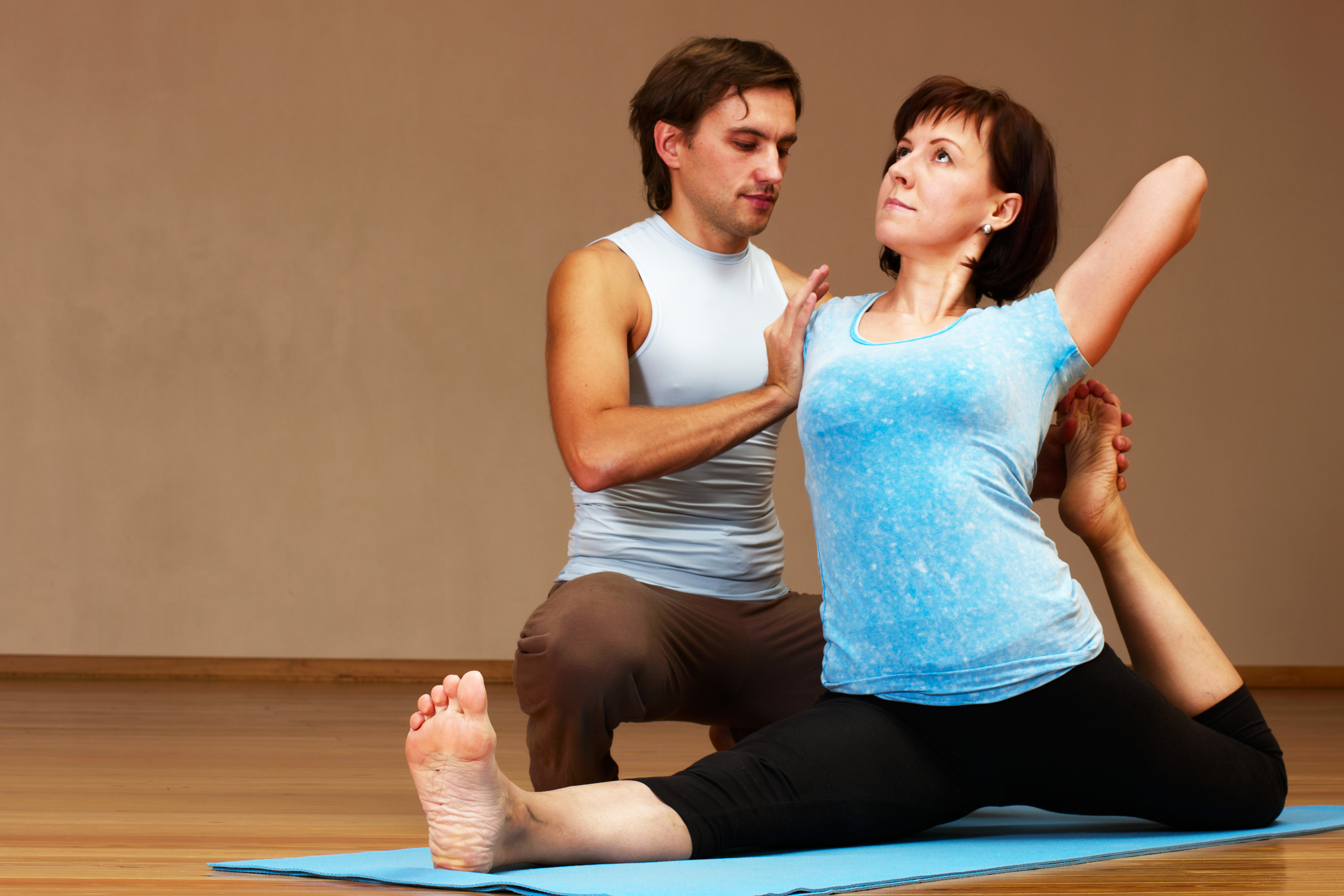 Fundamentals classes
Our fundamental classes are a great introduction to the many styles of classes that we offer at Free Spirit Yoga for brand new students and experienced alike who desire to grow their practice from a strong foundation of postural alignment and skillful breathing.
You will learn how to use the props, equipment, understand basic alignment and safety principles so students can progress safely and confidently to other classes.
Foundation classes teach need-to-know skills for all students such as how to modify poses to suit individual needs, what to wear to the different classes, what to expect in ongoing classes.
All shapes, sizes and abilities are welcome in all of our foundation classes.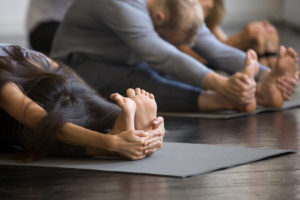 Yin Yoga
Simple yet effective Yoga asana's (poses) held for 1 to 5 minutes to improve your flexibility and range of motion and to help you release deeply held physical and emotional tension and tightness. Yin Yoga is designed to stretch and stimulate the deep connective tissues of the body.
This practice stimulates chi flow and maintains the health of the meridian system of the body.
Perfect for all bodies and an ideal balance to compliment "Yang" forms of Yoga or activities.
Partner Yoga
Classical Hatha Yoga poses and Thai massage techniques designed for couples and partners to work in unison with one another. A perfect way to connect or re-connect with your mate or friend. No Yoga experience is needed.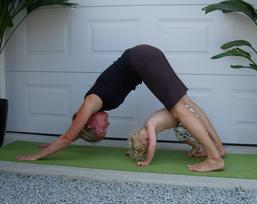 Family Yoga
Classical Hatha Yoga, play, creativity, lessons on self esteem, correct posture and alignment, breathing. Relax, let loose and enjoy the company of your children. No Yoga experience is needed.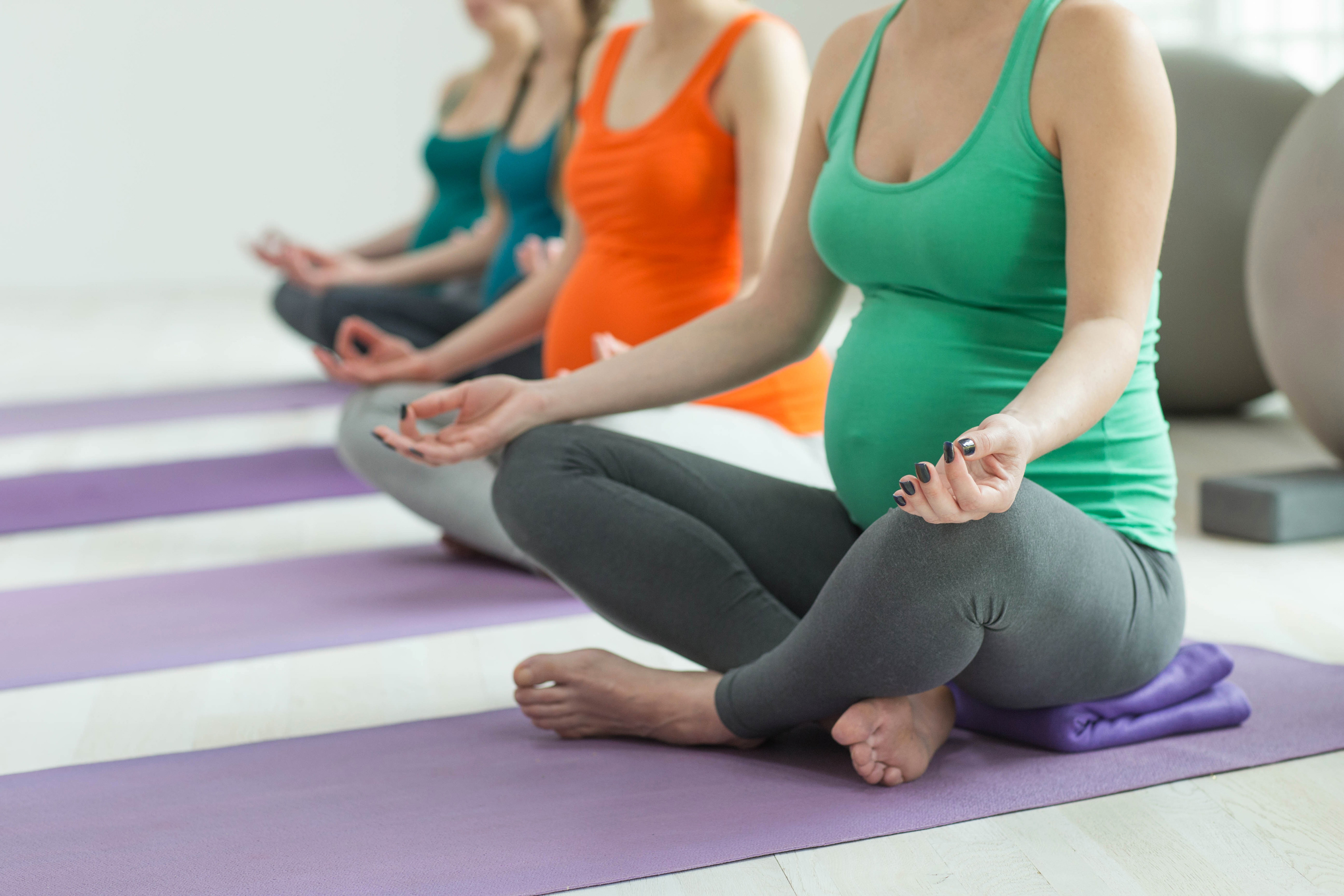 Prenatal Students
We welcome you to come and join us in any of our Hatha, Gentle Hatha, Yin, Restorative, Therapeutic and Meditation breathing classes. Prior to attending please come by the studio and pick up a par q for pregnancy form to fill in and take to your physician to sign prior to attending classes.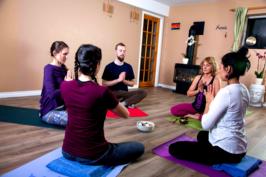 Meditation
At Free Spirit Yoga & Pilates we integrate mindfulness meditation and relaxation techniques in our classes to help deepen your practice.
Group and private meditation sessions. Private Reiki sessions.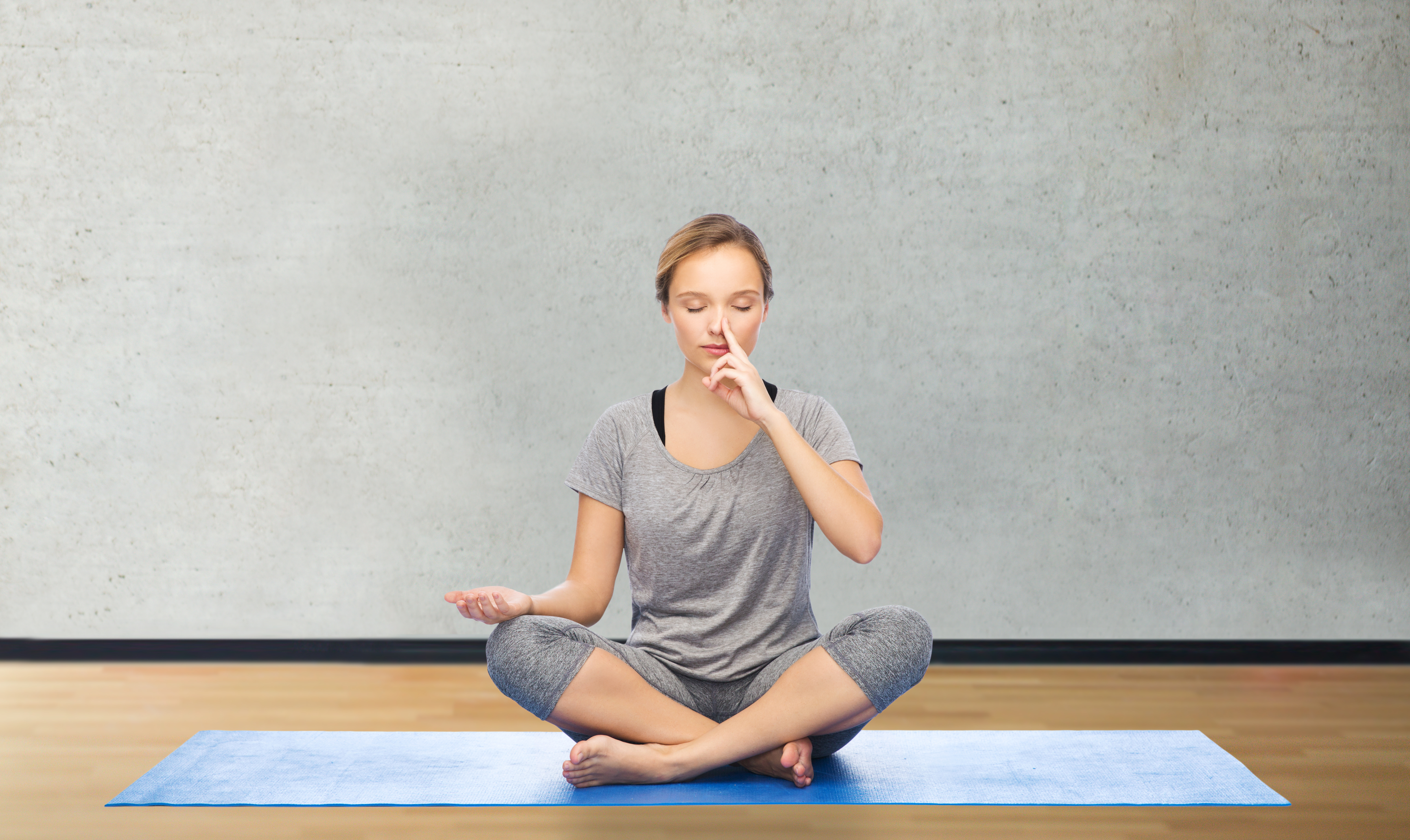 Pranayama
Breathing techniques are intertwined and form an integral part of all of our classes.
Pranayama is our vital life force, we are only as strong and vibrant as the breath we breathe.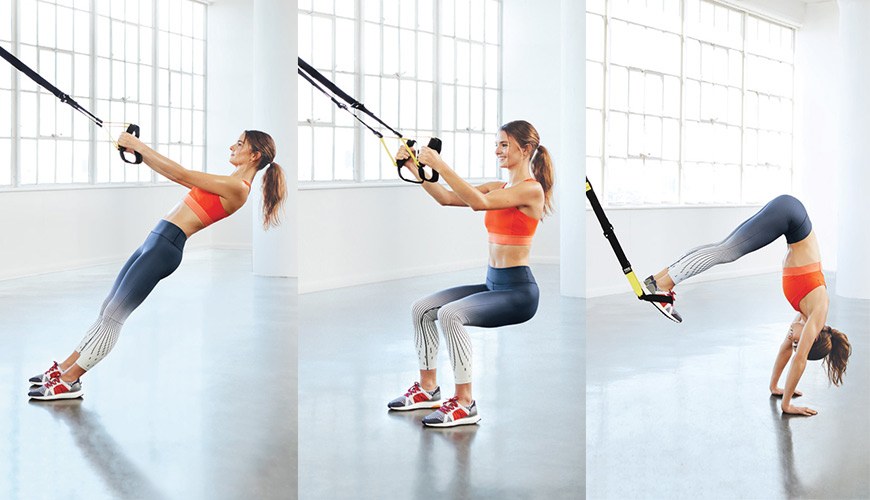 TRX and TRX Tabata
TRX cross training is a highly effective exercise system system using your own body weight and TRX straps. Strenghten and tone your muscles as you improve your cardio vascular system and range of motion. We offer private and group sessions. (please see our TRX page for more details)