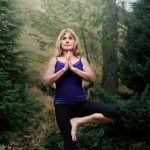 Julia Shields is the owner and director of Free Spirit Yoga & Pilates and is a registered Canadian Yoga Alliance 1000 hour gold Yoga Teacher and Yoga teacher trainer.
Namaste: thank you for finding your way to Free Spirit.  I have lived and breathed Yoga for over 30 years.  Yoga has been my sanctuary during challenging times throughout my life.  Yoga has helped me heal from asthma, chronic headaches and a tight sore body from many years of over use and competititve athletics.  Yoga did not come easy to me, it humbled me, it made me soul search and ask a lot of questions about the direction I was heading in and my life style.  It was a love hate relationship as I struggled to open my tightly wound body and calm my restless, tense mind.  Since my first Yoga experience I have never turned back as I began to feel the benefits immediately.
I thank Yoga for giving me back my breath, for giving me a supple and happy healthy body and mind, for taking away my headaches and giving me clarity.
I thank Yoga for giving me the freedom to be who I was meant to be, an empowered, compassionate woman with gratitude for the present moment and excitement for what the future will bring.
Yoga restored my faith in myself and mankind.
It is my mission to share the joy and magic of yoga with anyone willing to explore their full potential, to find peace of mind and experience wholeness and happiness in body, mind and spirit.
To be the best person that you can possibly be.
Training and Certification:

Canadian Yoga Alliance certified ERYT 1000 hour gold level

Free Spirit Yoga and Pilates is a Canadian Yoga Alliance registered Yoga teacher training school
for 200, 300 & 500 hour levels.
Mindfulness Meditation teacher
Thai massage level one and two
Unnata Aerial Yoga certified with Michelle Dortignac
Yin Yoga Teacher training certified with Paul Grilley
Pilates mat level 1 & 2 with Polestar & Physical Mind
BCRPA fitness leader, weight trainer, third age (senior) instructor, TRX Suspension trainer and personal trainer, Reki level 1 & 2 practicioner
For full details on my training and back ground, please go to Julia's qualifications.