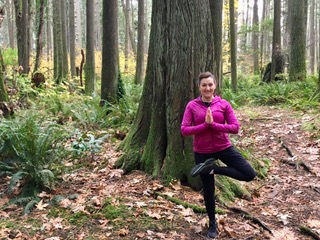 I fell in love with the beautiful calming aspect and inner focus of yoga 20
years ago. It soon motivated me to complete the RYT200 teacher training
with Julia at Free Spirit and share the benefits with others. Over the years
my practice has waxed and waned as I struggled to balance a hectic life.
But it was through life's challenges that I really embraced all of what yoga
has to offer. Through breath, stillness, meditation and movement, yoga
became a daily practice for me.
I continue to explore new learning opportunities and currently completed
Yoga Outreach Certification Program – 200 Hr Immersion with focus on
teaching with a trauma informed, accessible approach to yoga, through a
social justice lens.
My curiosity in alternative healing guided me to attain Master Level
Attunement in Usui Reiki discipline. Reiki has brought many positive events
into my life, for this I am truly grateful. What I love about Reiki is that it is
truly accessible to everyone, there is no physical movement required by the
recipient…you just need to relax and receive. This gentle, loving energy,
generates a sense of calm, while healing the recipient on all levels.
It is a privilege to support others on their journey through Yoga and Reiki
and having the opportunity to share what I have learned.
I look forward to seeing familiar smiling faces and meeting new ones at
Free Spirit.