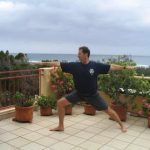 Allan is Julia's best friend, husband & business partner.  Allan is a recently retired Surrey Firefighter and practices Yoga, TRX & Aerial Yoga to help stay in shape and to keep a focused, clear mind.  Allan enjoys biking, hiking, fishing, rv'ing and travelling.
Allan works behind the scenes to keep our studio's well maintained and in excellent repair.
Thank you Allan for all that you do for us and for your dedication to Free Spirit.