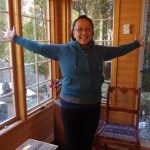 I have practiced Yoga on and off since 1998. When I did not practice Yoga, I felt scattered and sometimes lost.  Often, I didn't know what to do, but there was so much to do.  I didn't want to do anything, yet I wanted to do it all.  When I returned to a regular weekly practice of Yoga, I felt grounded and reconnected.  My thoughts were more clear and the pieces of my life started to fall into the right slots.
In early 2018, I got serious and completed 200 hour level Yoga Teacher Training, Kids Yoga, Trauma informed Yoga and TRX Suspension Training.  I am currently working towards 500 hour level Yoga Teacher Training and Pilates Mat level 1 certification with Free Spirit Yoga and Pilates.  Also I am working towards a Mindfulness Based Stress Reduction Certification.
I thank Yoga for always being there when I needed it.  Yoga taught me to look at life from different lenses.  I am confident I can get through with whatever life decides to challenge me with.
I enjoy Yoga, weightlifting, listening to music and being outdoors anytime of the year with my t shirts, shorts and sandals!
I also enjoy learning – I'm working towards my Bachelors in Manufacturing and Certificate in Materials Management.