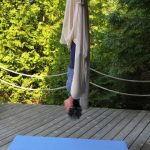 I started practicing Yoga 15 years ago while living overseas and have since been lucky to work with many teachers spread out over 3 continents.  After multiple international relocations with my husband and our two sons, I can truly say that my practice has helped me to stay grounded and has empowered me to embrace a new beginning each time.  I love celebrating diversity, which plays an important role in Yoga and I am closely connected to people from all walks of life.
I believe that getting out of one's comfort zone and trying something new will help you to continue to grow.  With that in mind I have lately discovered a new passion for Aerial Yoga.  Aerial Yoga allows you to decompress your spine and stretch your muscles while building strength at the same time.  I love the newly found freedom of movement and support in the Aerials, and nothing beats Savasana in the silks at the end of each class.
Inspired by Julia, I took my Yoga Teacher training at Free Spirit Yoga and Pilates and have recently completed the 200 hour level certification.  I am now working on my 500 hour level certification with current emphasis on Aerials, Yin Yoga and Kids Yoga.
I look forward to meeting you and sharing Yoga with you both on the mat and in the Aerials.