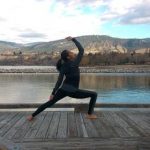 Viri is passionate about the art of movement and expresses her passion through Yoga and Latin Dance (Salsa, Danzon, Bachata).
Viri discovered Yoga 8 years ago and was amazed at how the practice of yoga made her feel so happy and centered.  After finishing her first Yoga class it all clicked and she knew her life would be forever changed and from that moment on and it was.
Viri initially approached Yoga as a way to improve her flexibility and find peace of mind and calmness and has since discovered it has helped her be more patient with herself and others.  It has taught her to listen to and nurture her body and mind.
A regular yoga practice has made her more open and accepting to whatever life throws at her.
Viri is also TRX certified and Pilates Mat Level one certified.
Viri welcomes you to come and join her in celebrating Yoga, Pilates, TRX and Latin Dance.