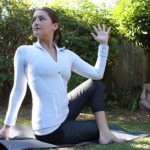 Linda started her yoga journey over 10 years ago when her high school teacher introduced her to Hatha Yoga as a part of physical activity.  She quickly found the amazing physical and mental benefits that came along with the regular practice.  Throughout the years she has practiced many different forms of yoga and has fallen in love with Classical Hatha Yoga.

In 2012 Linda completed her 200 hour level yoga teacher training.  Shortly after she finished she began to practice and mentor with Julia Shields.

Feb 21, 2015 Linda completed trx suspension training and is a certified instructor.

Linda understands that instructing a class with love and compassion allows the students to feel safe and comfortable.  Her instructions are clear, precise and easy to follow and she has a natural knack of connecting with the students, putting them at ease as she offers support and modifications.

Linda radiates a passion for life and it is reflected in her teaching style and her lifestyle.  She is a true friend and is always willing and able to reach out and help others and volunteer her time and efforts throughout the community.