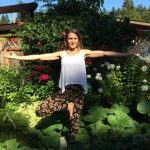 As a mother of 3 boys, a dog, 2 cats and a bearded dragon and working as a nurse, life can be hectic!  Yoga provides a sanctuary for me so that I can stay centered and grounded.
I practiced yoga in my bedroom as a teenager and a few years back started practicing again.  It was like going home.  Yoga helps me on and off the mat, from connecting to the breath, brining awareness to the mind body connection, to healing old wounds and releasing negativity.  I love that yoga is inclusive, and I find great joy in teaching all levels and all ages.  I like to teach in an egoless, safe and peaceful environment and enjoy a gentle and approachable style of yoga.
I became a certified 200 hour level Classical Hatha, Hatha Flow, Kids Yoga, Yin inspired and Gentle yoga teacher Yoga teacher in August of 2017 and a certified Pilates mat level Teacher in September 2017.  I was immersed in the kids after school yoga program for the Maple Ridge School district during my teacher training.
I am also a certified doula and I am preparing to take Reiki level 1 and 2 and Therapeutic Yoga Outreach training in the near future.
I love to hula and play the ukelele and spending time in nature.
I look forward to seeing all your smiling faces in class soon!